| | | |
| --- | --- | --- |
| | Categories | |

Vinyl, 3-5 Years
Vinyl, 5-8 Years
Vinyl, Fluorescent
Vinyl, Glass Decor
Vinyl, Metallics
Vinyl, Metalized
Vinyl, Reflective
Vinyl, Specialties
Vinyl, Translucent
Vinyl, Transparent
Vinyl, Heat Transfer
Vinyl, Tuning Film
Decorative Polyester
Print Media, Aqueous
Print Media, Non-PSA
Print Media, PSA
Print Media, Screen
Mounting Film
Laminate, Lexan
Laminate, Liquid
Laminate, Polyester
Laminate, Specialties
Laminate, Vinyl
Digital Ink
LED, Sign & Deco
Letter, Accessories
Letter, Channel
Letter, Zip-Change
Paintmask & Stencil
Premask
Plotting, Paper
Plotting, Pen & Blade
PPE Supplies
Sign Blank
Sign Frame & Holder
Sign Box, Accessories
Sign Box, LED-lit
Sign Box, Ballast
Substrate, Roll
Substrate, Sheet
Tool, Finishing
Tool, Cutting
Tool, Essentials
Tape & Velcro
Adhesive & Glue
Paint & Primer
Solvent & Cleaner
CNC Router Bit
EZ Ship, Media
EZ Ship, 3'x4' Pallet
EZ Ship, 4'x8' Pallet


| | | |
| --- | --- | --- |
| | Manufacturers | |

| | | |
| --- | --- | --- |
| | Information | |

Direct to Substrate Printing
Direct UV-curable ink printing on DisplayMaker® 72UVR produces high quality graphics on rigid or flexible roll materials. The DisplayMaker 72UVR is a 72"-wide production printer that produces extremely durable, high-quality output for outdoor and indoor applications. Maximum substrate width is 1/4". We also offer die / contour cut options on the printed substrate.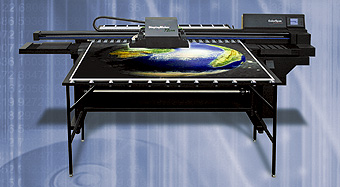 Common substrates outputed includes:
Coroplast
Foam Board
H.I.P. Styrene
Foam PVC
Clear PVC
Acrylic
Lexan
Co-polyester
ABS
Card Board
Aluminum Laminate
Engraving Plastics
Direct-to-substrate printing eliminates the step of mounting a print onto the sign substrate. On one hand, the material and labour costs are reduced. On the other, the process requires a longer setup time and the operator will inevitably waste more valuable substrate for the test prints. Therefore, depending on the jobs, the traditional print vinyl and mount approach is still cheaper to run for small jobs, while the direct-to-substrate makes more sense when the job involves at least a few sheets of 4'x8' material.

In cases where the signs will be installed in high traffic areas, direct-to-substrate printing is preferred since the vinyl is prone to be peeled at the edges by "idle fingers". In terms of print quality, the print vinyl and mount approach is superior especially for small text (<0.5"), in which case, the direct-to-substrate print will appear fuzzy due to over-spraying on an imperfectly flat surface.

With our accompanied Router Table, we can also offer printing on coroplast, foam PVC and acrylic with contour cutting for cutout and easel displays.

We accept ready-to-print files from the trade only. Preferred file formats are TIFF, Vector CorellDraw (.CDR), AI , EPS files. JPEG is acceptable only for small print due to its lossy compression. PDF files should be prepared with "Prepress" setting rather than for "Web Viewing". All files should be zipped or stuffed to reduce file transfer times via the internet. For outdoor signage, the files should be prepared such that the resolution at the outputed size is at least 75-150 DPI. Higher DPI is required for print with lots of text, while rendering or photo is fine at the lower end. For indoor prints, 300 DPI is a good rule of thumb for most applications.

Available Online Quote Calculator (Coming Soon)
Direct print on 4mm Coroplast
Direct print on 4mm Coroplast, 2 sided
Direct print on 060 Styrene
Direct print on 080 Styrene
Direct print on 080 Non-Glare Acrylic