| | | |
| --- | --- | --- |
| | Categories | |

Vinyl, 3-5 Years
Vinyl, 5-8 Years
Vinyl, Fluorescent
Vinyl, Glass Decor
Vinyl, Metallics
Vinyl, Metalized
Vinyl, Reflective
Vinyl, Specialties
Vinyl, Translucent
Vinyl, Transparent
Vinyl, Heat Transfer
Vinyl, Tuning Film
Decorative Polyester
Print Media, Aqueous
Print Media, Non-PSA
Print Media, PSA
Print Media, Screen
Mounting Film
Laminate, Lexan
Laminate, Liquid
Laminate, Polyester
Laminate, Specialties
Laminate, Vinyl
Digital Ink
LED, Sign & Deco
Letter, Accessories
Letter, Channel
Letter, Zip-Change
Paintmask & Stencil
Premask
Plotting, Paper
Plotting, Pen & Blade
PPE Supplies
Sign Blank
Sign Frame & Holder
Sign Box, Accessories
Sign Box, LED-lit
Sign Box, Ballast
Substrate, Roll
Substrate, Sheet
Tool, Finishing
Tool, Cutting
Tool, Essentials
Tape & Velcro
Adhesive & Glue
Paint & Primer
Solvent & Cleaner
CNC Router Bit
EZ Ship, Media
EZ Ship, 3'x4' Pallet
EZ Ship, 4'x8' Pallet


| | | |
| --- | --- | --- |
| | Manufacturers | |

| | | |
| --- | --- | --- |
| | Information | |

HP Designjet 5000 printer produces high quality posters, transparencies and other trade-show displays with maximum width up to 59". These outputs together with various cold and hot laminations will address all indoor display applications.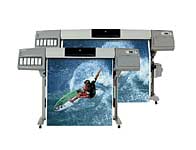 Common outputed media includes:
Photo Gloss Poster Paper
Presentation Paper
Presentation Paper w/encapsulation
Print mounted on Foam-core w/lamination
Print w/Lexan lamination
Backlit Film
Artist Canvas
We accept ready-to-print files from the trade only. Preferred file formats are TIFF, Vector CorellDraw (.CDR), AI , EPS files. JPEG is acceptable only for small print due to its lossy compression. PDF files should be prepared with "Prepress" setting rather than for "Web Viewing". All files should be zipped or stuffed to reduce file transfer times via the internet. For indoor prints, file resolution of 300-600 DPI at output print size is essential.

Available Online Quote Calculator (Coming Soon)
Dye-based Print on Presentation Paper
Dye-based Print on Photo Gloss Paper
Dye-based Print on Backlit Film
Dye-based Print and Mount on Foam-core w/lamination